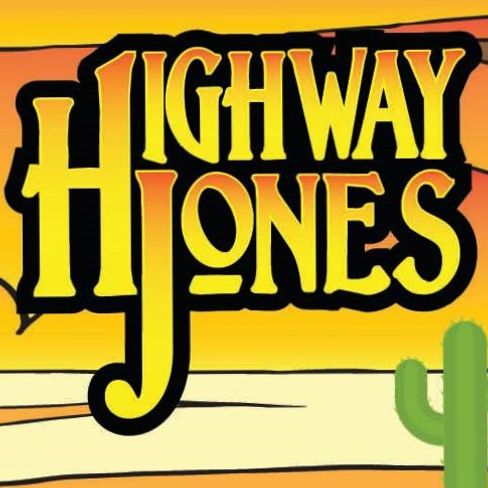 HIGHWAY JONES
4 PIECE ROCK BAND FROM JACKSONVILLE FLORIDA
WHO IS HIGHWAY JONES?
If the Black Crowes and 4 Non Blondes got married and had a baby, it would be named Highway Jones! We specialize in ON POINT rock and roll from classic rock to current. Seasoned musicians with decades of professional experience. The band has been together for 7 years. Highway Jones plays a WIDE VARIETY of music to suit your musical tastes. Highway Jones has performed at many popular venues and festivals in and out of North Florida. Jacksonville Florida is their home base and most of the band grew up there, and call it their hometown!
SHOWS 2023 
JAN 6 FRI DOGHOUSE 6PM 
JAN 14 SAT REALITIES 9PM 
JAN 21 SAT LILLIANS 8PM 
JAN 27 FRI WHITEYS 8:30 
FEB 10 FRI CLIFFS 8:30 PM 
FEB 17 FRI COPPERTOP 8PM 
(MARCH 3-11 IS BIKEWEEK!) 
MARCH 11 SAT REALITIES 9PM 
MARCH 18 SAT LILLIANS 8PM 
MARCH 31 FRI PORTHOLE 9PM 
APRIL 1 SAT PALACE SALOON 8PM 
APRIL 7 FRI DOGHOUSE 6PM 
APRIL 14 FRI CLIFFS 8:30 
APRIL 28 FRI COPPERTOP 8:30PM 
MAY 12 FRI WHITEYS 8:30 
MAY 26 FRI PALACE SALOON 8PM 
JUNE 16 FRI PORTHOLE 9PM 
JUNE 30 FRI CLIFFS 8:30PM 
JULY 7 FRI DOGHOUSE 6PM 
JULY 21 FRI COPPERTOP 8:30PM 
AUG 4 FRI WHITEYS 8:30PM 
SEPT 1 FRI CLIFFS 8:30PM 
SEPT 16 ST MICHAELS SOLDIERS BENEFIT 
SEPT 22 FRI PORTHOLE 9PM 
OCT 7 SAT PORTHOLE 9PM 
OCT 27 FRI COPPERTOP 8:30PM 
NOV 4 SAT PALACE SALOON 8PM 
NOV 17 FRI WHITEYS 8:30PM 
DEC 2 SAT CASEYS HIDEAWAY 9PM 
DEC 16 SAT CLIFFS 8:30PM 
DEC 31 NYE PARTY AT COPPERTOP
Latest Track
Highway Jones a 4 piece rock band from Jacksonville, FL
Previous events
(EDT, UTC-04) (EDT, UTC-04)
(EDT, UTC-04) (EDT, UTC-04)
 — (EDT, UTC-04) — (EDT, UTC-04)
Rock and Roll by Highway Jones
Come rock and roll with Highway Jones!
Back for another round of Rock! Ride on down!
Highway Jones rocking Whiteys! Classic rock and Team drinks!
Come hang with us at one of our favorite Bars in town!
Highway Jones Riding on The Highway to Daytona Beach and The Boot Hill Saloon!
Back for a Friday Nite Romp!
Highway Jones High Stepping at Southern Kitchen on the Beach
Rocking the roof off Coppertop!
Returning to one of the best rock and roll bars in Jax!! Cliff Hangers Unite!
We are excited to be at Whiskey Jax this year is our first show. We could really use your support! Come rock out with us in a major way!